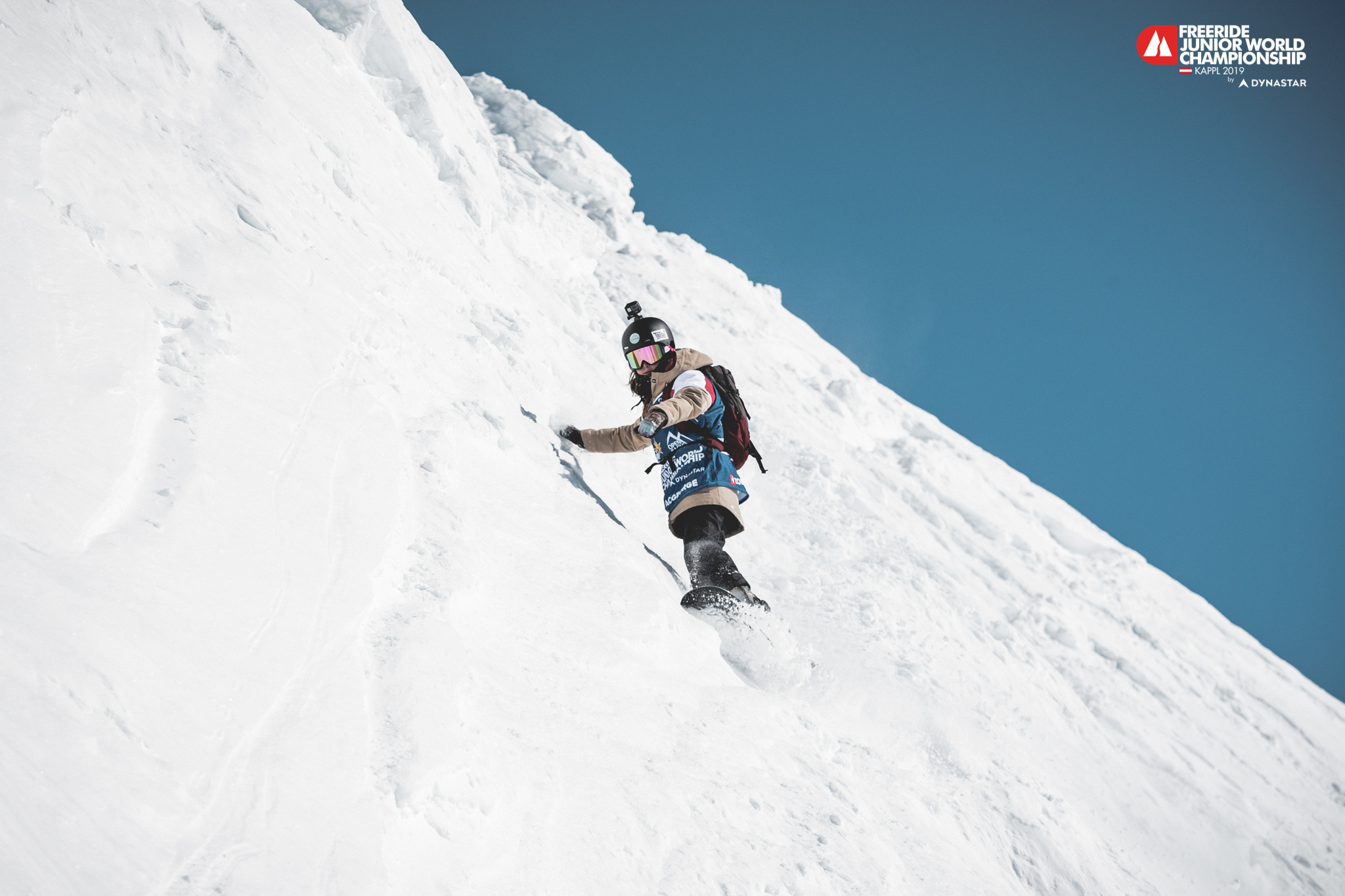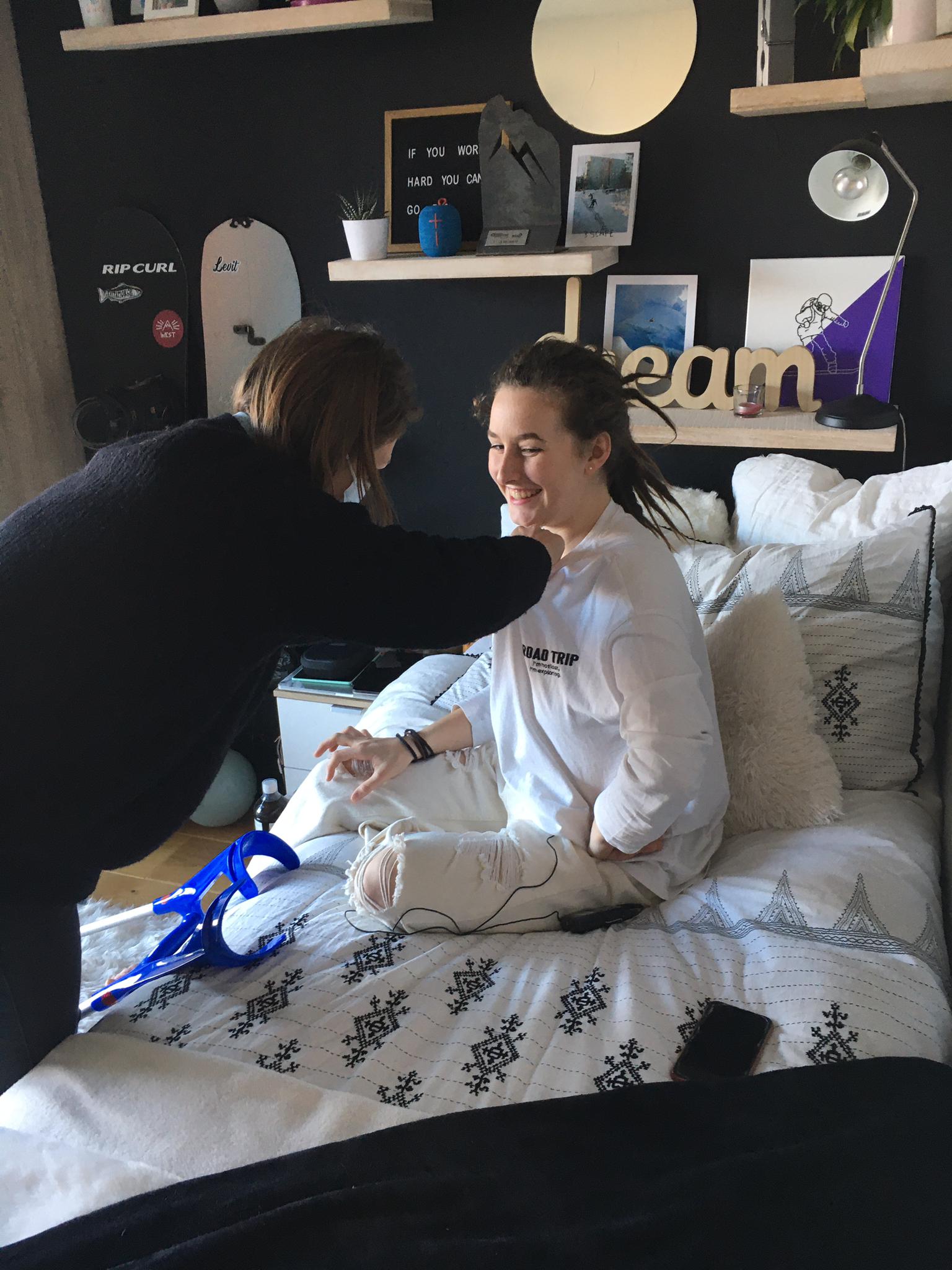 Awards time – I am nominated for the Valais Sports Awards! – 27

. 

November 2020
Today I got some fantastic news: I am nominated for the 2021 sports awards! Sports journalists select the best athletes of the year, then the public, the media and the sports associations vote for their favorite athlete.
I am so happy to be part of the adventure. What an honor! I might even get the award J. Tomorrow I will discover who else was nominated.
The local television channel Canal 9 came to my house in order to do a feature on me and my victory at the World Championships. It was a fun experience and a great day.
A few weeks ago I had the great honor of receiving my council's yearly award for my sports performances. All local sports and cultural clubs' presidents unanimously voted for me, which touched me deeply.
All these recognitions make me very happy and help me towards my recovery. I can never be thankful enough for the fantastic support I receive from every one!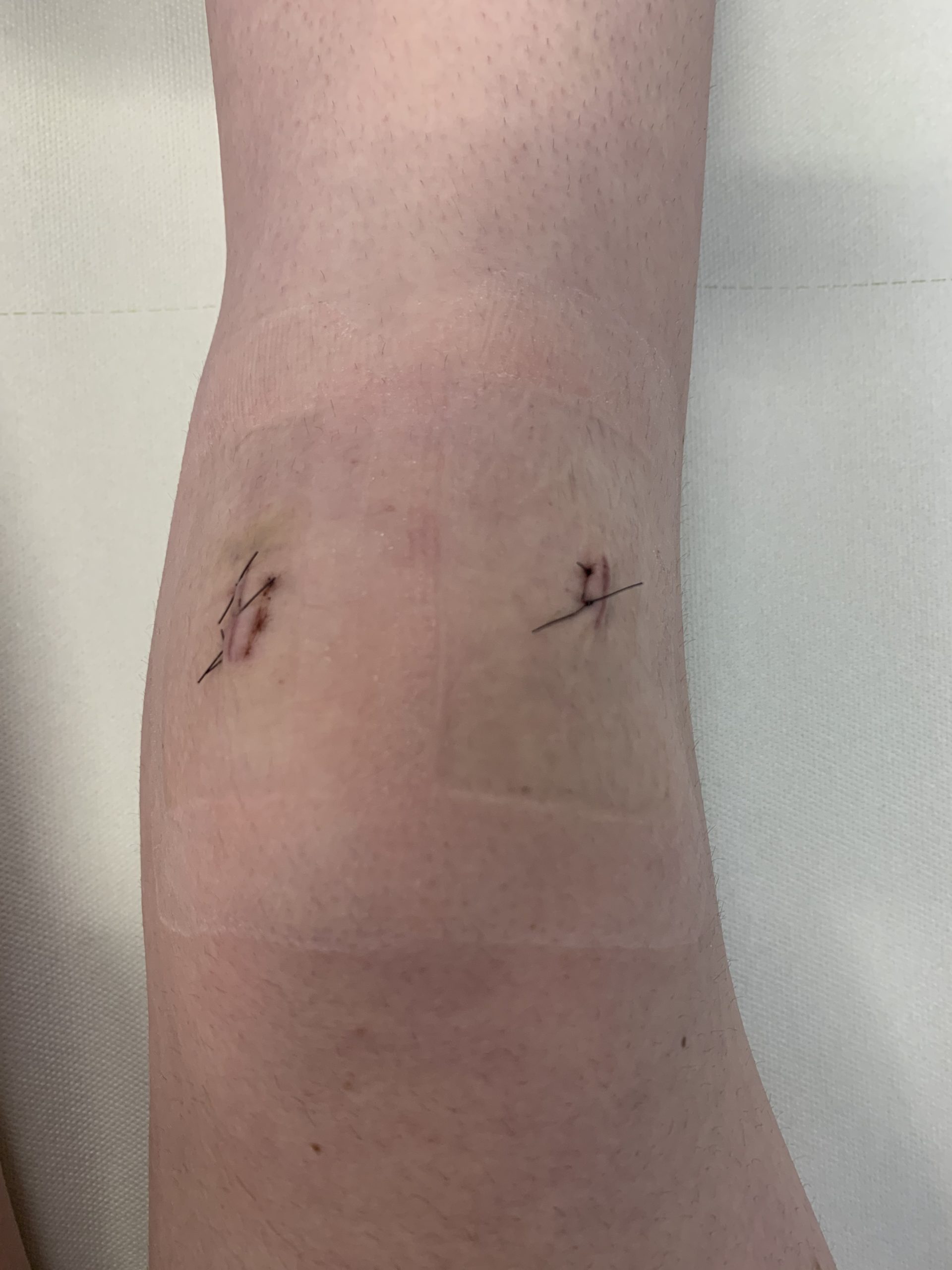 The start to recovery  – 30

. 

Oktober 2020
I was operated on the 30 October and have already spent 5 weeks on crutches as I am writing these lines. The operation went well and my knee seems to be recovering nicely. I live in my bubble, studying hard for school from my bed as I cannot attend classes. I try to do as many physiotherapy exercises as I can in order to avoid losing to much muscle strength.
I am absolutely sure of something: I will come back to the competition stronger than ever. My whole recovery program is in place: as soon as I can walk again, I will do everything to get my strength back. I have only one objective, one obsession: coming back to top level next winter. And I will do everything it takes to reach that goal!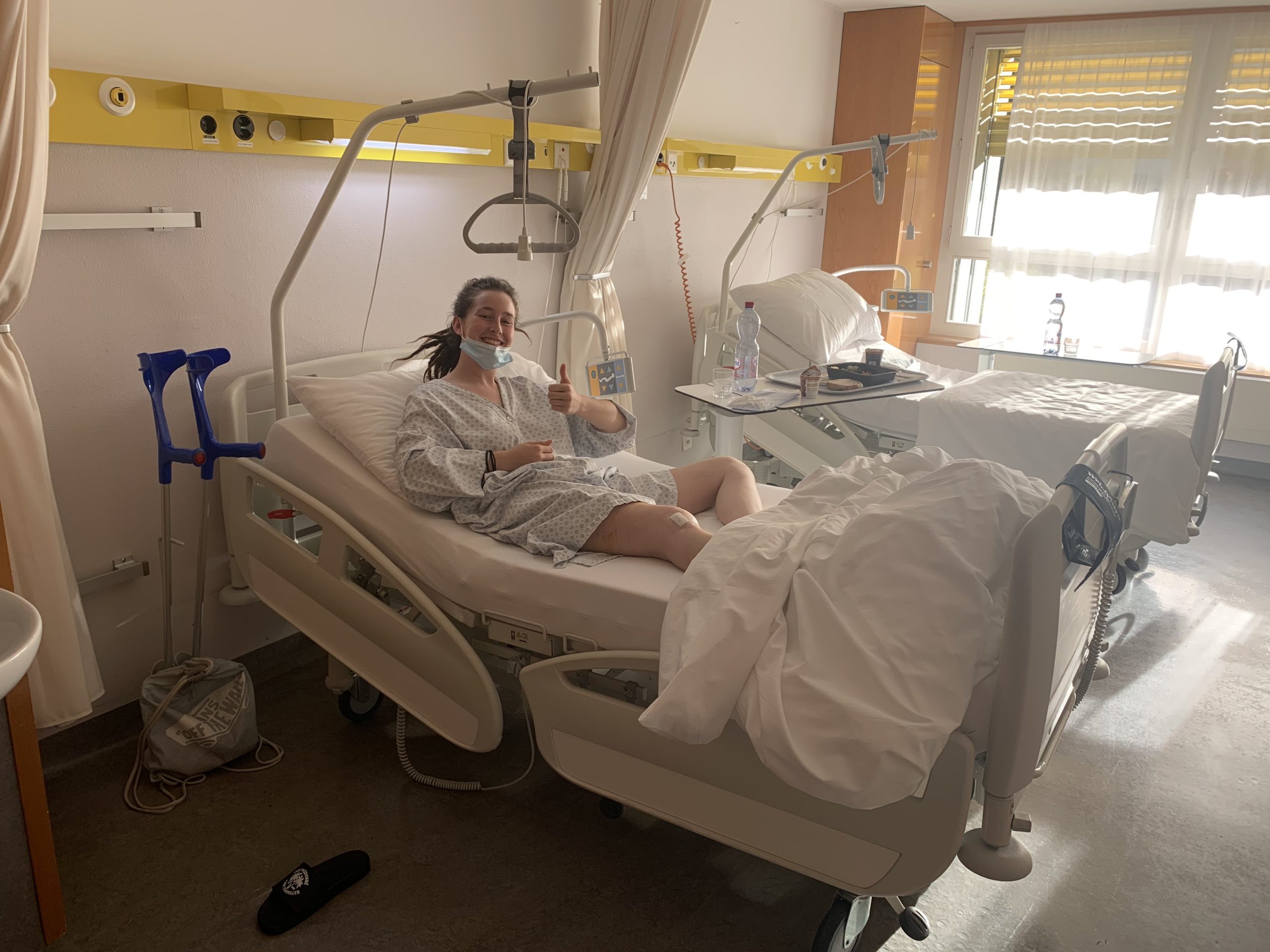 My world falls apart  – 7

. 

Oktober 2020
A few weeks ago, my world fell apart. I had a knee MRI and heard the most terrible piece of news: my right-hand side internal meniscus was broken. I could not believe it. It was a nightmare.
My knee had been hurting for a few months but the doctor kept saying it was a ligament inflammation. Except his time, the pain got worse, to the point where I could not even walk any more. The emergency MRI showed the terrifying truth.
My parents found the best surgeon I could get, a master in this field, who only operates on athletes. He checked the MRI pictures and calmly announced that he would stich the broken meniscus back together, which meant walking with crutches for 6 weeks after the operation, and then slowly starting to use my leg again, but without any shocks. I thought I was going to die when he told me I would only be able to ride next summer again! I left his practice crying, in choc.
Banger Park – 6. September 2020
Training in Banker Park, Austria. Banger Park is the ultimate training destination for freestyle athletes in Europe. This rider-centered facility provides an innovative and safe environment for riders to progress with fun and confidence. It is a place where we can all get creative, fall, laugh, get back up, progress and have fun.
No need for snow: all you have to do is slide on this huge carpeted ramp, jump with your best trick over a massive hard-built kicker and land on a huge landing bag.  
Water constantly gets pumped on the ramp and the landing bag in order to guarantee the best slide for the riders. As a result, we all look pretty funny wearing wet suits or waterproof trekking trousers and jackets. But we have great fun.
The best part? I can push my limits trying new tricks because I feel safe landing on that massive bag.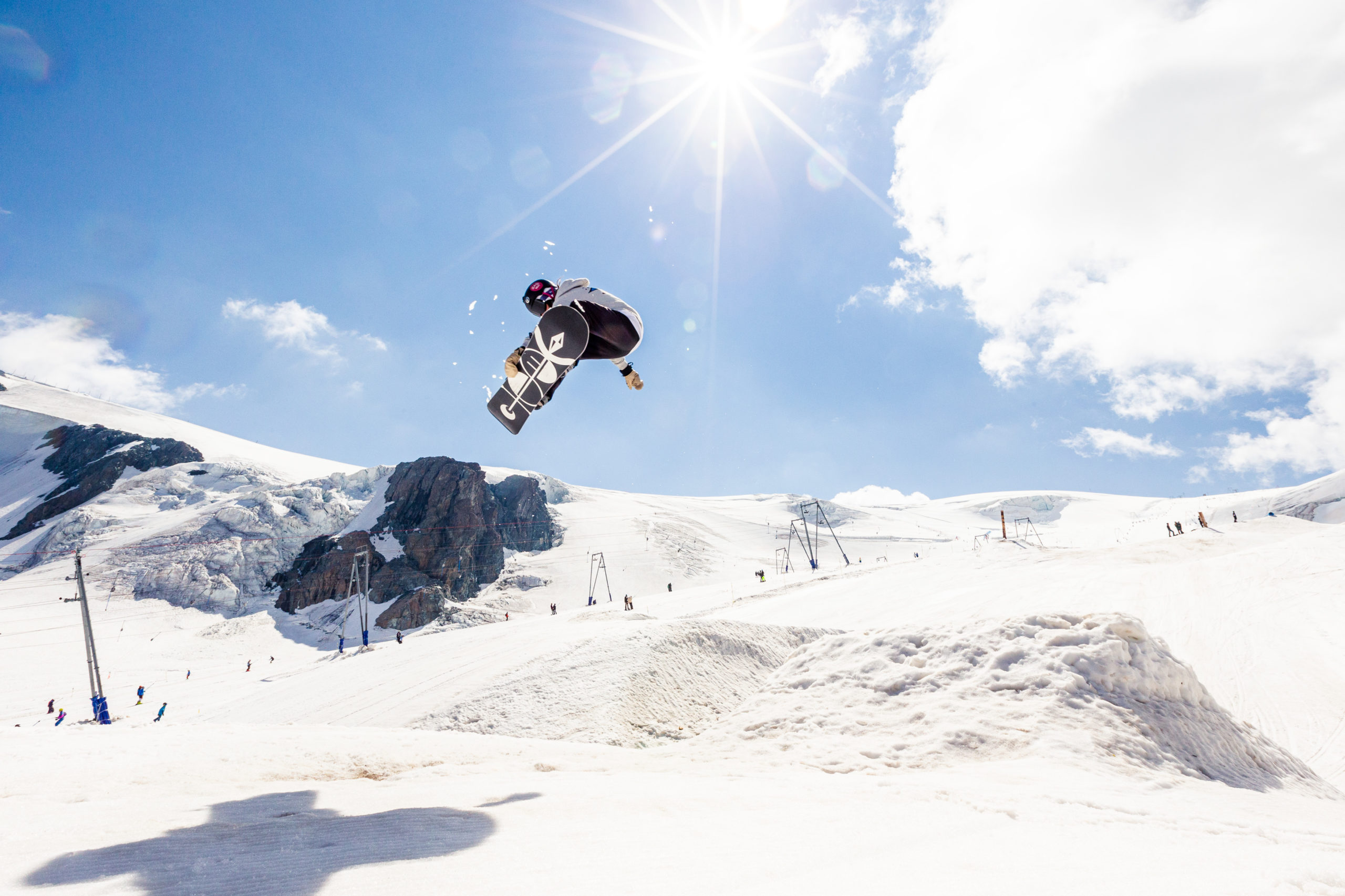 Summer vibes – 6. August 2020
So happy to start training again! After being deprived of competitions and trainings for months because of the Corona virus pandemic, I am stocked to ride on the Zermatt glacier again!
I love this traditional summer appointment with the mountains and I am very lucky to live in Switzerland, which means I do not need to travel abroad and can train in my own country. This is a huge advantage at a time where most flights have stopped and quarantines are imposed on people coming from other countries.
Zermatt, here we goooooo! Gosh I am enjoying the summer snow park so much. Training on rails is a fantastic exercise for balance, jumping on high obstacles, reflexes and overall getting rid of the fear of getting hurt by getting caught on metal ridges. Here I can try all sorts of rails and boxes: flat-downs, rainbows, cannon, etc.
The snowpark Zermatt is of course a hotspot for many freestyle athletes and teams. It is great to meet with everyone again and get to ride with world top athletes!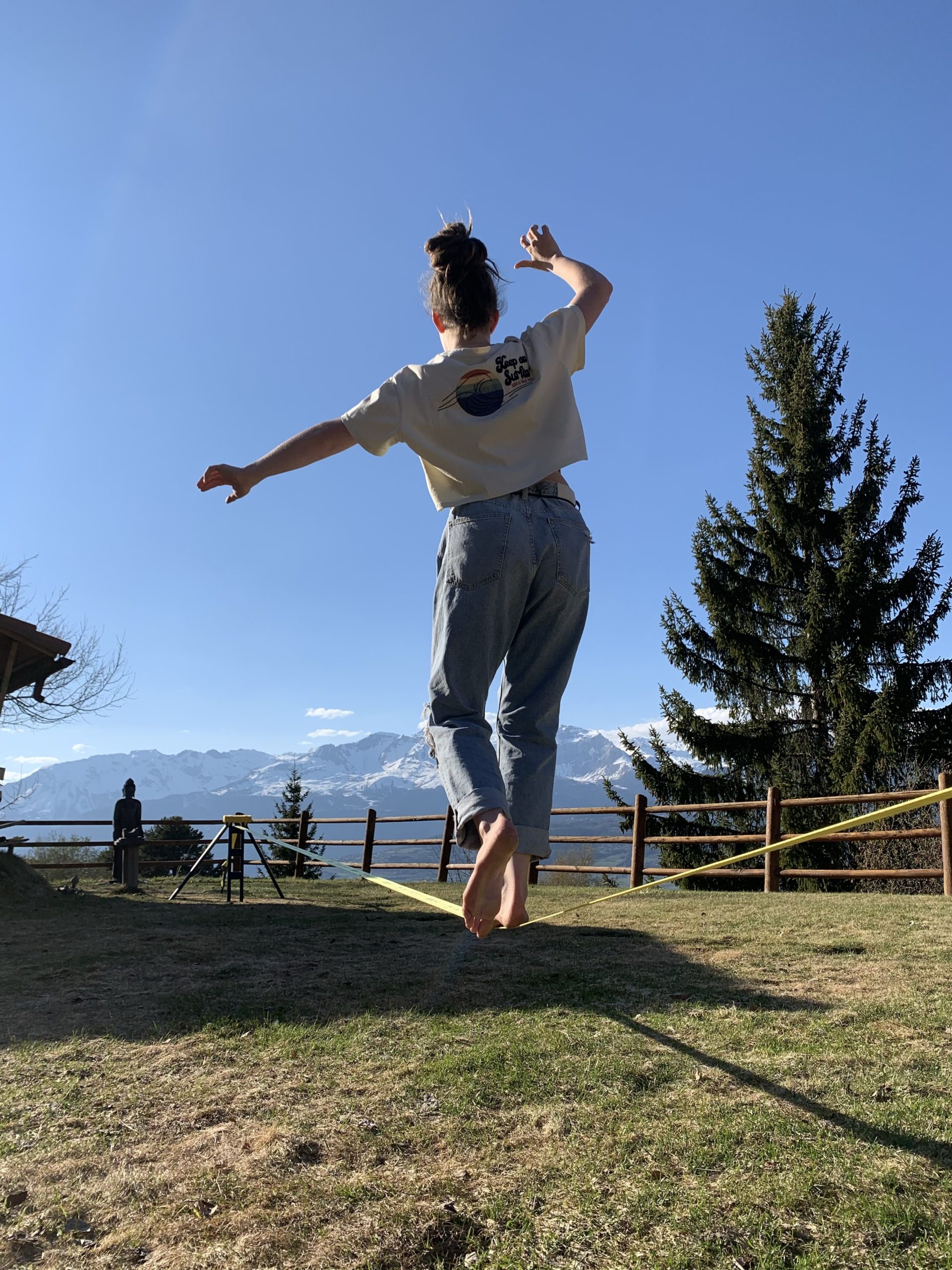 Challenging times for athletes – 15. April 2020
Any outdoor activity is banned. Going riding with my friends is banned. Even climbing sites are closed!!! So how can I keep my fitness level and my motivation as high as possible? That's a real challenge. 
My motivation is sometimes good, sometimes terrible. I am trying to stick to a fitness routine but that's not easy. I live at 1500 meters so there is a lot of snow a little higher though it has melted in the garden. Using that snow is banned. Running and cycling at altitude is not possible yet. Thankfully, I can do some yoga and other fitness exercises at home.
With a lot of free time left on my hands I decide to do a complete bedroom make over: New walls, new shelves, new desk, new decoration and plants, let's change everything! This project keeps me busy for some time.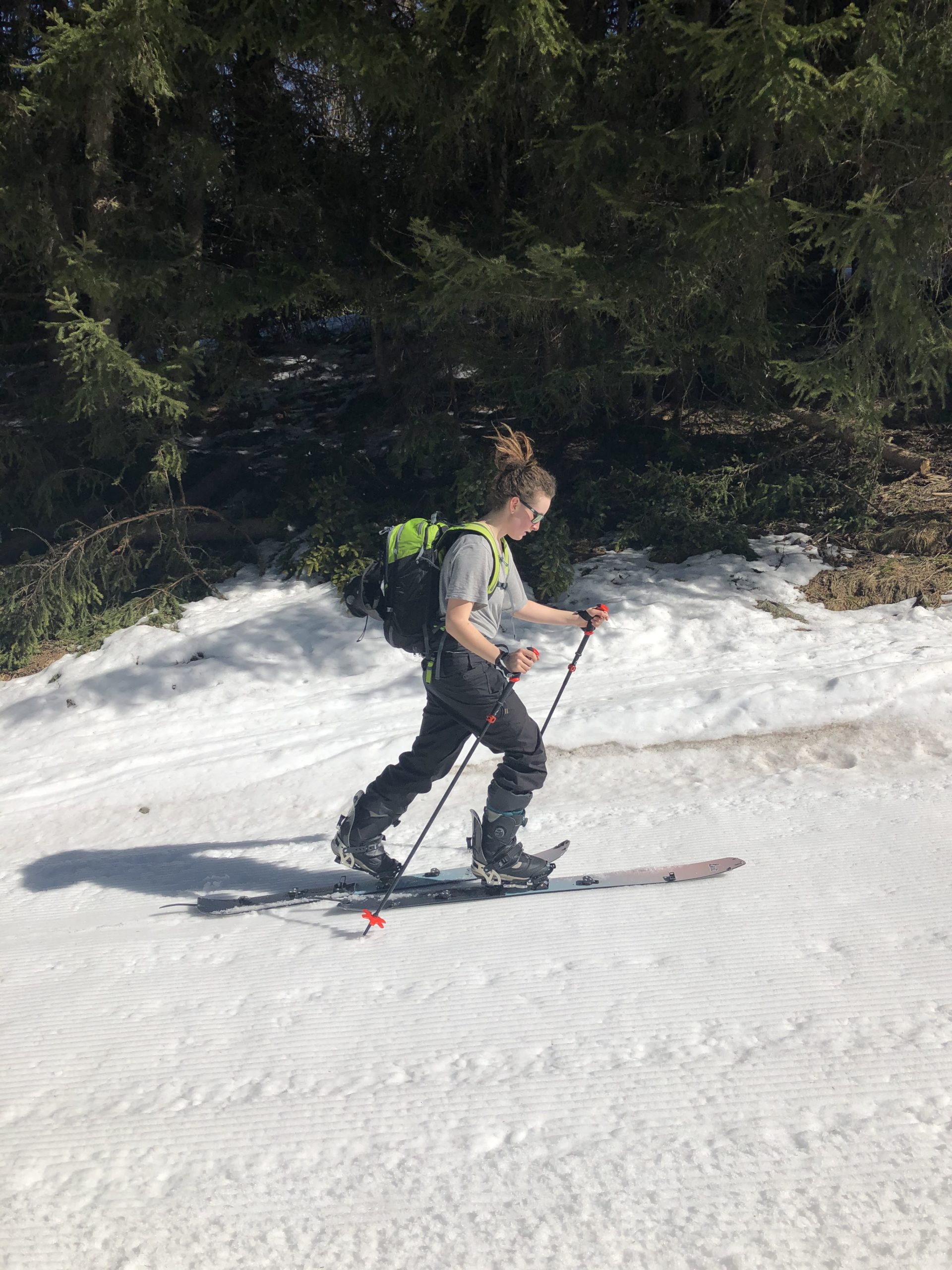 Split boarding! Wait, no split boarding? – 30. March 2020
I am just getting over the news about the brutal end to the season. I am still shocked with the whole situation. The ski resorts are closed. Let's got split boarding! A split board is essentially a normal snowboard which splits into two halves. These halves become "skis" for travelling uphill with adhesive-backed 'skins' attached to the base of the "skis" to provide traction on the snow.
I am very excited to get my first ever split board from my gear sponsors West Snowboarding and Levitation. I get to try it a few times in my local resort, on the deserted ski runs. But very soon the news break: no one is allowed in the mountains. Activities such as ski touring, split boarding, mountaineering or climbing are all banned.  
So, my sport has become illegal! And I am a criminal for practising my sport on a deserted snow slope.  How weird is that?
A brutal end to the season – 13

. 

March 2020
What a shock! Here I am in Nendaz, Switzerland on that 13. March 2020. Getting ready to attend the riders meeting this evening and already concentrating for tomorrow's comp. The whole resort is ready for one of the most important events of the year: the Nendaz Freeride Week.
In the middle of the afternoon, I hear the shocking news: the event is cancelled because of the Covid-19. The Swiss government has just banned all sports events, closed ski resorts, schools and businesses, and recommended people to stay at home.
I get caught in an avalanche of mixed emotions: I am happy because I understand that I have won the titles of European & Oceania Champion as well as the Swiss Champion as I am the current leader in the season's results. At the same time, I feel terribly sad because the competition has been cancel. I also understand that the season's finals in Verbier will not take place, which make me feel sadder still.
It is very harsh to work so hard during months and get all of this brutally taken away from you. This unfinished season feels really weird: no final competition, no final event and celebration with everyone, no goodbyes to the other athletes, no "I can't wait to see you next year buddy". Wow.
But crying doesn't help much. So, my friends and I get together, grab our shovels and build a kick in the snow. There is no better cure to sadness than riding a man-made kick in the pow and having fun with your best mates.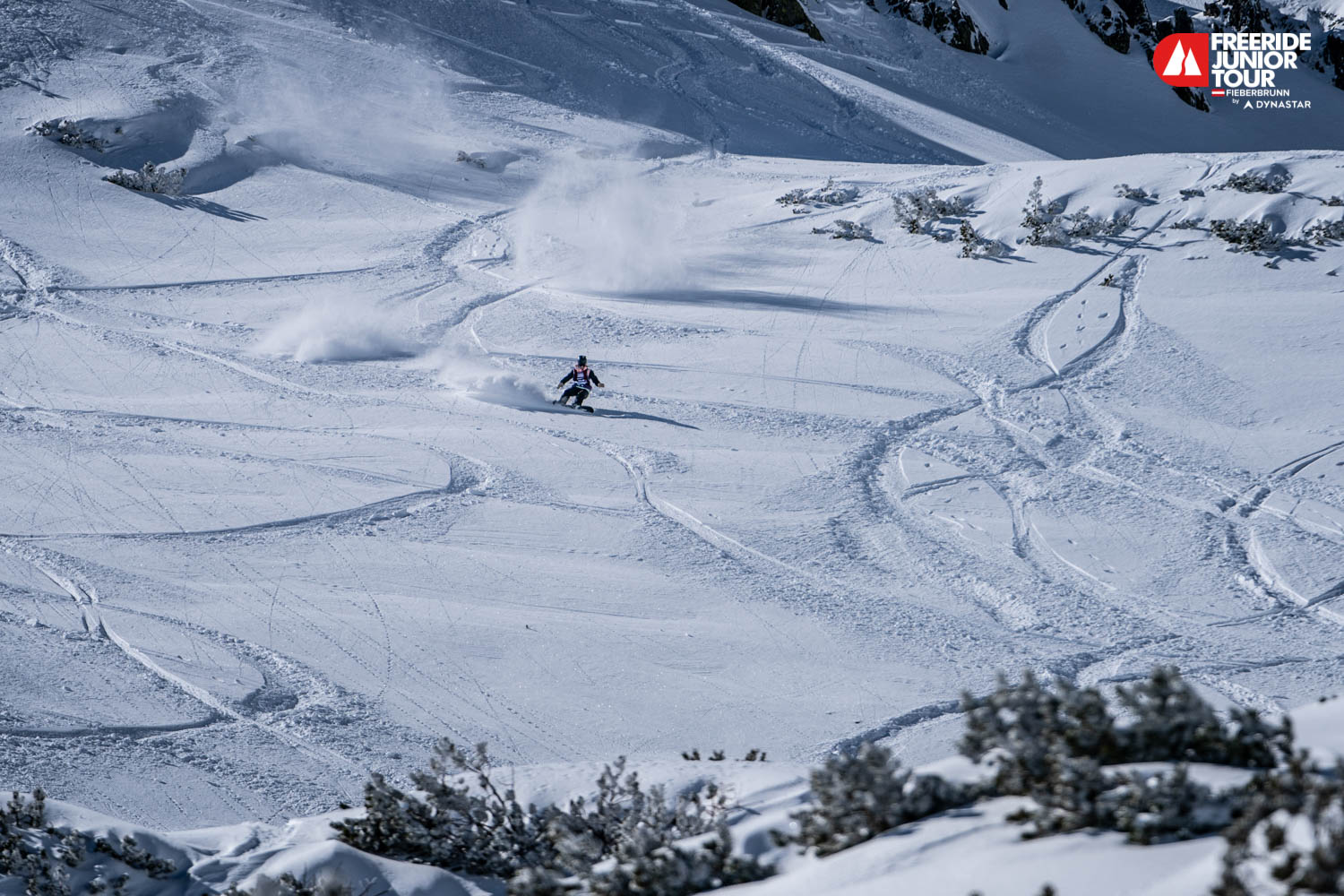 With the best riders in the world – 8. March 2020
I am back in Austria for a competition I am so looking forward to: Fieberbrunn. My first time here. An awesome mountain, an incredible face.  
Not only that but, the best part is that Fieberbrunn is also one of the Freeride World Tour stops. So, I was going to compete on the same mountain as the best athletes in the world and, on the same day. And maybe I will meet some of them during the hike to the top of the face!  
This is exactly what happened. As I was preparing to walk up, I met the freeride snowboard World Champion Marion Hearty, an incredible athlete that I am so looking up to.  
That competition was very important for me mentally. It served as a test for the two nicest and biggest comps that were coming up: Nendaz and Verbier.  I wanted to check if my mental preparation was good enough for those two major events.  
At the start gate, I felt that my stress control was good. I dropped in and charged down, fast and solid. But I knew I was missing a jump on the top part of the run. However, I did not want to start figuring out something at the last minute and put a lot of pressure on myself and then end up crashing.
I got a logical second place that day as the judges did indeed decide I was missing a jump. I was still  very happy as I knew I was well prepared for the next competitions.
That night, I got to party with some of the Freeride World Tour athletes. That alone was a huge reward!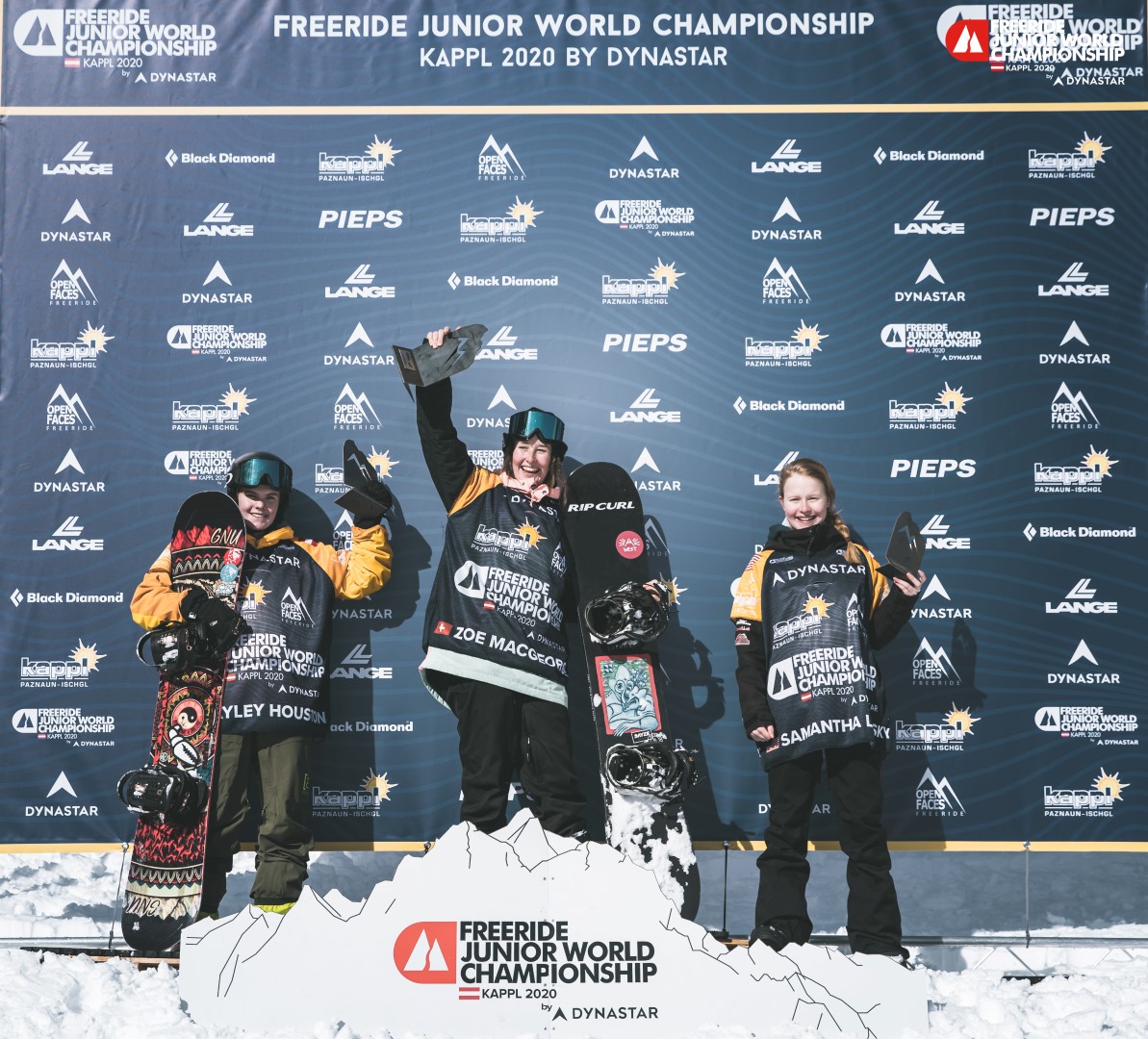 World Champion, a day I'll never forget – 30. January 2020
71.33 points, 30. January 2020: A number and a day I will never forget. I have just finished my run at the Freeride Junior World Championships and I discover my score.
I knew I had done a good run but had no idea what the judges would think of it. Well I got a solid 71.33 points! My heart leapt with joy. I understood straight away that I was in the lead. There were still a few more girls to come down so nothing was sure.
When the last one finished her run and was rewarded with 30 points, I knew I had won the World Championships. What an incredible moment! My family, my friends and my coach all jumped on me, over excited with joy.  
Things had not started so well as it had snowed non-stop for the last 48 hours and the mountain face that had been chosen for the competition was not safe. The organisers had to decide on another venue at the last minute. That was not an easy moment for me as I had studied photos of the Quellenspitze and I had got mentally prepared to ride that impressive face.
Also, I was not sure I liked the new venue. It was shorter and seemed to be far less interesting than the Quellenspitze. I was angry. But I had no choice, I had to adapt to the new reality and fast. After checking the new face, I felt much better. I wanted to ride a line that made me happy and comfortable.Then I found it, a beautiful line with some air and even three jumps in a row.  
With my coach Emilien Badoux on my side to help me find my line and manage my stress in the starting gate, I had a strong, confident run and managed to get in all the jumps I had planned. And got the best score of my entire season!